Harmony XALE
Plastic control stations for use with Harmony XB7 range Ø 22 mm control and signaling units
The Harmony XALE control stations are ideally suited for industrial, buildings, and infrastructure applications. They are compatible with the Harmony XB7 range of control and signaling units, providing a wide choice of circular heads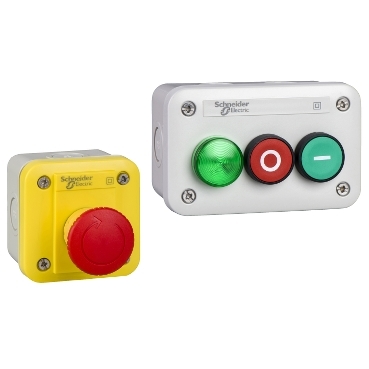 Features

These control stations cater for the most commonly encountered functions: start, stop, start-stop, emergency stop.

Complete stations:

Ready to use, the 45 complete XALE stations are fitted with 1, 2 or 3 Ø 22 mm control and signalling units from the Harmony® XB7 range

Stations for customer assembly:

4 empty enclosures with 1, 2 or 3 cut-outs for user fitting of Harmony® XB7 units, in order to meet specific requirements.
Mechanical resistance of product: IK05
Conformity to main standards: IEC/EN 60947-1, IEC/EN 60947-5-1, IEC/EN 60947-5-5, IEC/EN 62208
Certification: CE
Degree of protection: IP54

Benefits

Single-brand solution using Harmony control stations and pushbuttons simplifies your choices
Two form factors of control stations maximize flexibility:

Complete control stations with ready-to-use buttons
Empty control stations for customer assembly

Simple-to-use thanks to basic functions and performance

Applications

Industry: simple and mass production machines, textiles, packaging, handling, etc.
Buildings and infrastructure: small lifting systems, control of garage doors, rolling shutters, smoke extraction vents, etc.