Actassi S-One RJ45 connectors
Actassi S-One RJ45 connectors
Providing fast and trouble-free network connectivity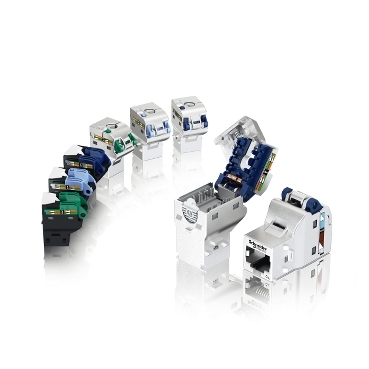 Features

Actassi S-One RJ45 connectors are designed to exceed the most advanced international standards including ISO/IEC 11801 and 2:2010 for connecting hardware. All Actassi S-One connectors are manufactured to provide exceptional cat 5e, cat 6 & cat 6A performance for shielded and unshielded data networks. They are also fully integrated with a wide range of Schneider Electric products like 19" patch panels, wiring devices and installation systems including trunking, poles, posts and floor boxes.



Benefits

It's about speed, performance and complete peace of mind

Full compliance to ISO/IEC11801 and 2:2010, for connecting hardware
Innovative one-piece design for quicker installation – up to 50% faster to connect
Comprehensive range – cat5e, cat6, cat6A, shielded and unshielded
U-shaped cable entry with a smart bridle for easy wiring
Automatic 360° earthing providing security and peace of mind
Safe – Concealed IDC to avoid injuries or damage
Safe – Ergonomic design with rounded edges
Front marking and rear colour coding for instant performance identification
Reworking made easy with only two clicks – No tool required
Delivered open, ready to wire
Practical and eco-friendly packaging
Designed to be integrated with other Schneider Electric products

Applications

The Actassi S-One RJ45 one-piece connector is part of Schneider Electric's global Actassi product portfolio for Network Connectivity. It has been developed to make installations faster and networks performance trouble-free.

Not only has Actassi S-One been designed and manufactured to meet the rigorous needs of the data centre, it is equally at home in the technical room, or interfacing with the users at the workstation.

While being an integral part of the Actassi global offer the S-One connector is also a critical component of Schneider Electric's TOP system, a system providing Total Office Performance and seamless connectivity for the building and the office. All parts of TOP are designed to work as ONE, from power and data distribution, to safety systems and life space controls. TOP is built on the strong and committed S-One values of easy installation, reliability, flexibility and efficiency while delivering performance and functionality.