Propivar NG
MV capacitors
Medium voltage capacitors for power factor correction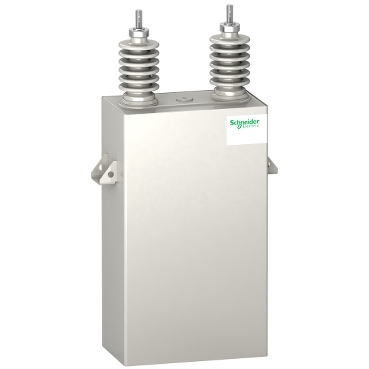 Features

Propivar NG capacitors are used to build capacitor banks for power factor correction on medium and high voltage networks. They are suitable for all compensation levels from the energy distribution substation to the final consumer.

Characteristics:
The range Propivar NG allows covering all the power ratings, depending on the voltage, frequency, and harmonic distortion of the network.

single-phase, double-phase, and three-phase capacitors
maximum rated reactive power: 900 kvar (single-phase capacitors), 800 kvar (double-phase capacitors), 600 kvar (three-phase capacitors)
installation: indoor or outdoor, in cubicle or in open rack
protection: internal fuse in option
voltage: for network from 2.4 kV to 34.5 kV (when used in star connection)
frequency: 50 Hz and 60 Hz
temperature: -25°C to +50°C (-40°C to +55°C on request)
conformity to standards: IEC 60871, NEMA CP1

Benefits

The MV capacitor you can trust

Propivar NG is a key component of power factor correction. It contributes to energy efficiency improvement and energy savings:
- reduces electricity bills, power losses, and CO² emissions...
Propivar NG contributes to the improvement of power quality and availability:
- compensation of voltage drops detrimental to the process, avoidance of nuisance tripping and supply interruptions, optimization of the use of electrical equipment...
- optimization of the installation rating, reduction of harmonic distortion, reduction of equipment operating temperature, avoiding premature ageing or destruction of sensitive equipment...
Safety and reliability - Propivar NG complies with standards IEC 60871-1, -2, and -4, NEMA CP1 (other standards on request):
- fully type-tested to meet IEC 60871 standard requirements
- designed and tested to meet safety requirements
Peace of mind for a very long time - Propivar NG is designed for many years without failure, thanks to high quality material, protection by internal fuse (on single-phase and double-phase capacitors), protection against harsh conditions and corrosion...
Green - Propivar NG is environmentally safe thanks to non-PCB (bio-degradable) dielectric fluid

Applications

Propivar NG provides power factor correction, harmonic filtering, reduction of losses and reduction of voltage drops on medium and high voltage networks.

Electrical Utilities: generation, transmission, distribution
Typical industrial applications: heavy manufacturing, automotive assembly, petrochemical, plastics, pharmaceutical, etc.