DIN Rail Dimmers
C-Bus™ DIN Rail Dimmers are C-Bus controlled and are available in both 4- and 8-channel models.
-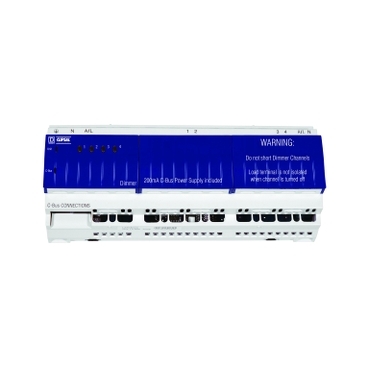 Features

C-Bus Incandescent Dimmers are C-Bus controlled output units suitable for incandescent and compatible low-voltage lighting. These units are designed to be rack mounted in suitable DIN style enclosures, such as the C-Bus 36M enclosure.
Each of the unit's channels can independently control loads to create dynamic lighting scenes.

These dimmer units automatically compensate for voltage and frequency fluctuations and employ advanced phase-control techniques to reduce flicker and increase lamp life.


Related Documents & DownloadsFeatures

Suitable for use with incandescent lamps and low-voltage lamps utilizing iron core or electronic transformers.
Specialized dimming modes - soft turn On/Off and linearized brightness control.
Can supply up to 200 mA to the C-Bus network (models SLC5504TD4A and SLC5508TD2A with built-in power supply).
Integral thermal overload protection on each channel.
Individual channels can be turned ON/OFF at unit or via C-Bus commands
LEDs indicate the status of the network at the unit, the status of the unit's load and power, and the status of each channel.
Non-volatile memory stores operating status for recovery from a power outage.